Summary:
Côté is poised to become one of Canada's largest gold mines with an expected annual output of 495Koz and total cash costs of US$693/oz in the first six years of operation. Construction of the mine commenced in the fall of 2020 and is expected to ramp up to commercial production in the early 2024. Côté currently boasts a 7.2Moz reserve, a measured and indicated resource of 10.2Moz and an inferred resource of 3.8Moz making it one of the largest gold resources in Canada.
The royalty covers a portion of the northern and north-eastern part of the Côté pit and all of the Gosselin gold project. Gosselin is centered ~1.5km to the northeast of the Côté deposit which IAMGOLD estimates to host a resource estimate of 5 Moz of gold. Gosselin was discovered in 2019 and is part of the Côté joint venture between IAMGOLD & Sumitomo. The Gosselin zones exhibit similar geology and metallurgical characteristics, indicating potential for similar gold recoveries to the Côté gold deposit. According to IAMGOLD, Gosselin has the potential to support production levels of ~500koz per year at the Côté operation beyond the first 6 years where production at Côté is expected to drop towards the 365Koz per year average.
IAMGOLD announced the completion of another successful drill campaign at Gosselin and reported additional results. IAMGOLD stated recent drilling at Gosselin provide evidence that the 5 Moz gold Gosselin deposit is approaching similar dimensions as the adjacent ~14 Moz gold Côté deposit. IAMGOLD expects to incorporate recent drill results into an updated resource estimate for Gosselin in IAMGOLD's year end Mineral Resources disclosure. In addition, IAMGOLD continues to advance technical studies on Gosselin, including metallurgical testing, mining and infrastructure studies to review alternatives to optimize the possible inclusion of the Gosselin deposit into a future Côté Gold life-of-mine plan.
Notable intercepts from the recent Gosselin exploration program include 1.28 g/t gold over 412 meters, 0.98 g/t gold over 342.5 meters, 0.65 g/t gold over 472 meters and 0.94 g/t gold over 264.5 meters. The Gosselin deposit remains open at depth to the northwest and along strike to the east and southwest. The Gosselin deposit has only been drilled to half the depth of the Côté deposit.
Interest: 1.35% NSR Royalty
Location: Gogama, Ontario
Project Status: Construction
Counterparty: IAMGOLD (NYSE: IAG)(TSX: IMG) & Sumitomo Metal Mining (TYO: 5713)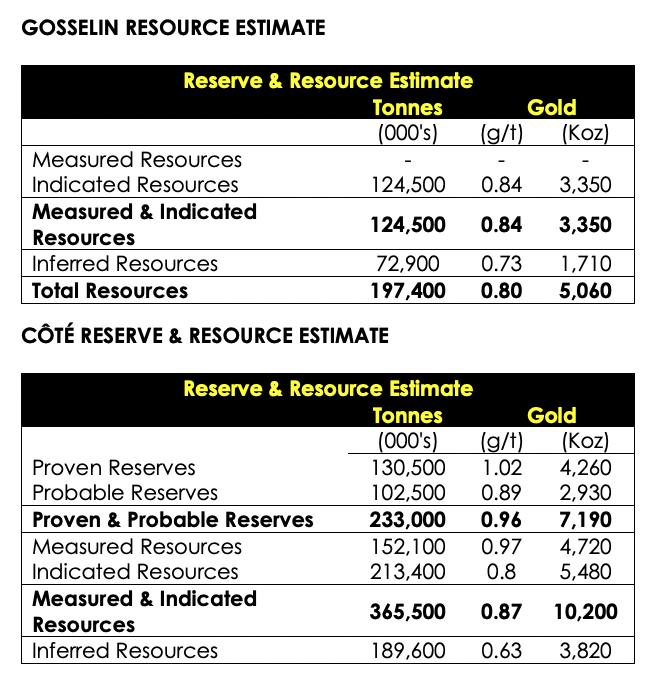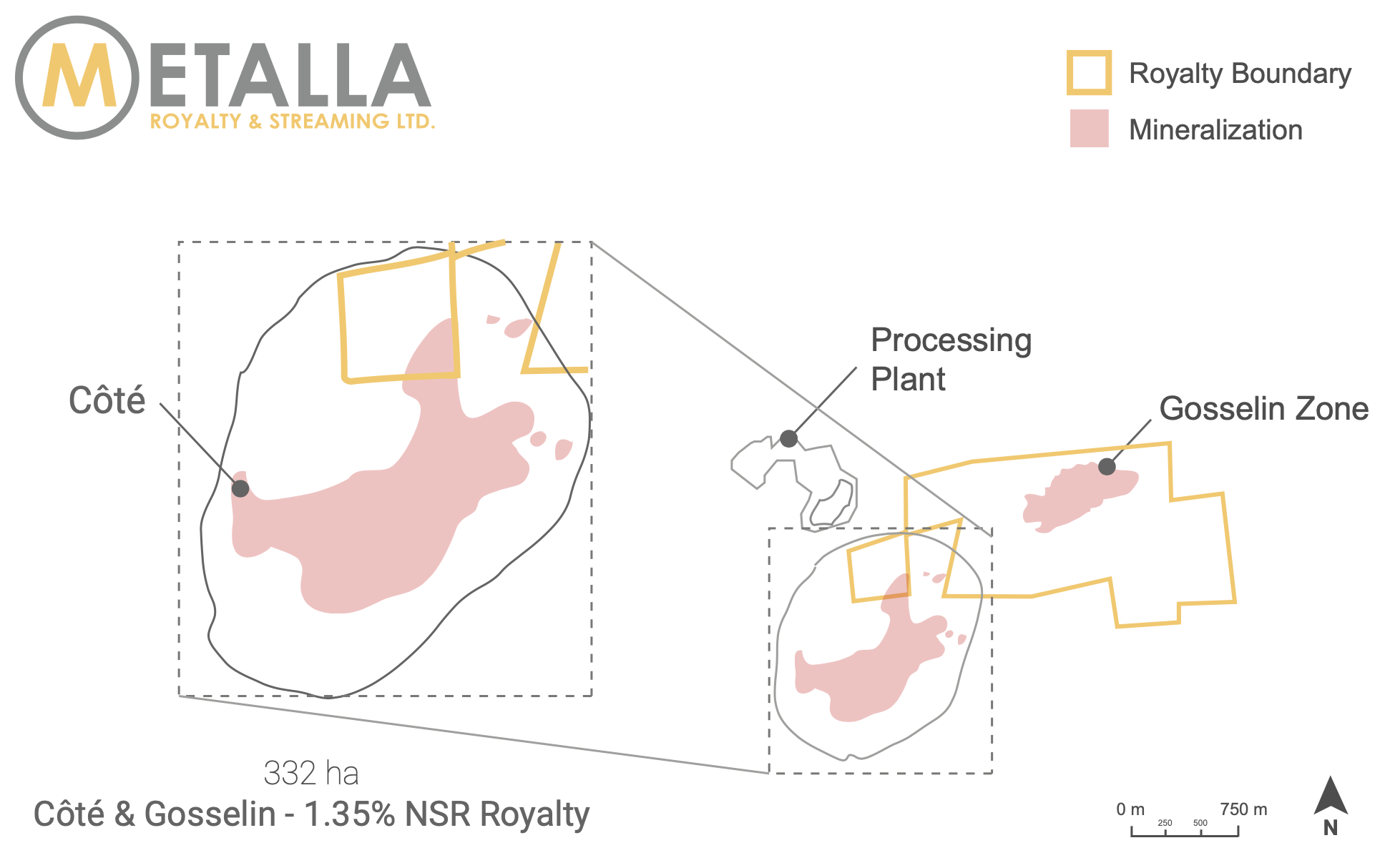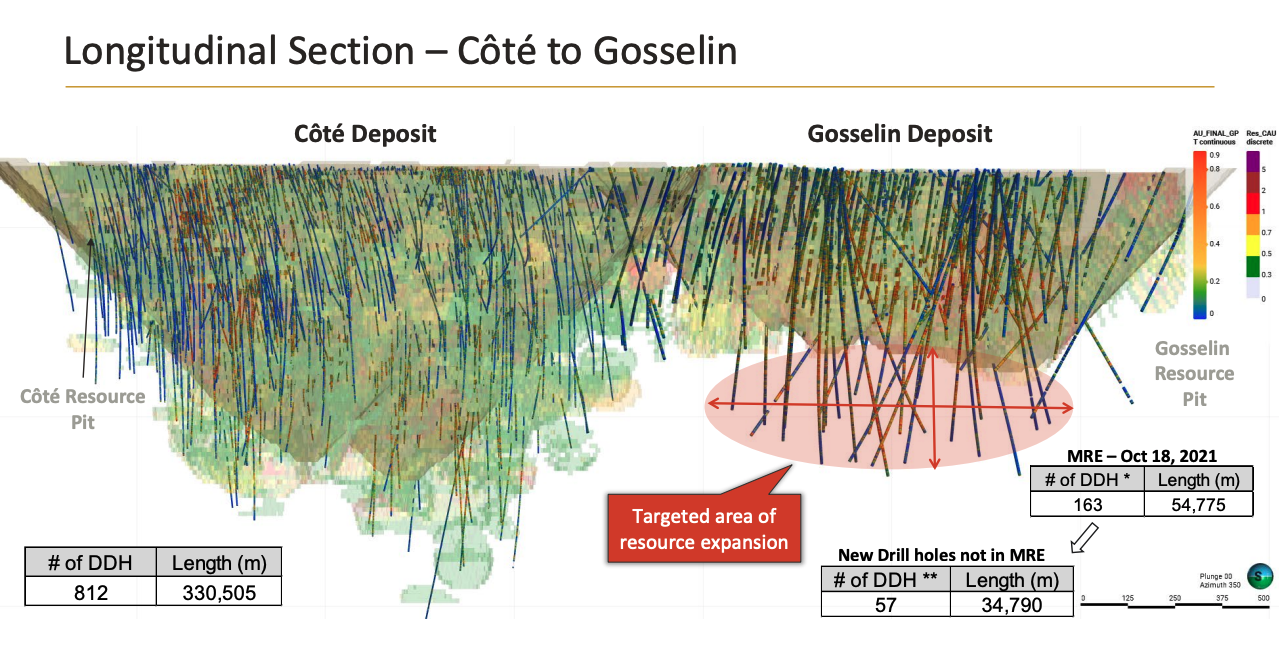 Sources: Technical report for the Cote Gold Project dated November 26, 2021, IAMGOLD news release dated Oct 18 2021, IAMGOLD Q1 Results dated May 3 2022 and IAMGOLD Press Release and accompanying Presentation dated October 23, 2023