Metalla was built to generate leveraged precious metal exposure by acquiring royalties and streams for our shareholders. Our goal is to increase share value by accumulating a diversified portfolio of royalties and streams with attractive returns. Our strong foundation of current and future cash generating asset base, combined with an experienced team gives Metalla a clear path to becoming one of the leading gold and silver companies for the next commodities cycle.
Focused strategy of acquiring third-party royalties on assets owned by major mining companies
A pure-play gold/silver streaming and royalty company
Free carried interest in a diversified portfolio of assets
Guaranteed margins
No exploration risk, mining risk, and project risk
Topline cashflow
Immediate cash flow from producing operations
Exposure to the asset in perpetuity
Exposure to top operators and assets in the world
Leverage to the gold/silver price and growing business
Approach to Royalty/Stream Acquisitions
Focused on precious metals streams and royalties
Evaluation
Management's operating track record
Profit margin & position on the industry cost curve
Counterparty risk, jurisdictional risk, technical risk
Producing or near-term producing assets
Compliance with the Group's corporate social responsibility policy
Diligence
Detailed due diligence on assets production profile
Site visits by technical team and independent technical advisors local in the jurisdiction
Production assumptions based on existing mineable reserves, resources conversion assumptions evaluated on case-by-case basis
Consider other factors such as geology, infrastructure and permitting, which could impact production volumes or mine life
Legal ownership, permits, licenses, operating agreements, titles, and corporate structure
Growth Strategy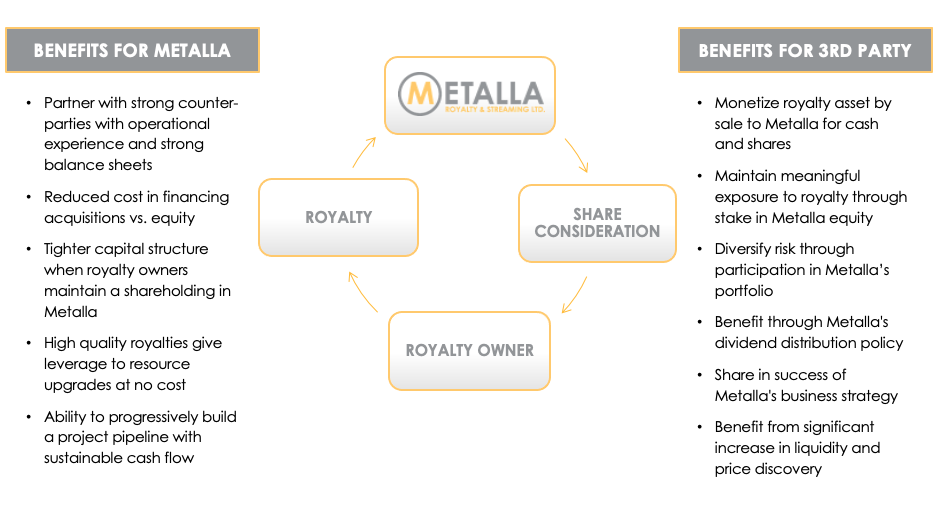 Royalty & Streaming Benefits
Metalla has employed a unique strategy in acquiring royalties and streams offering sellers a combination of Metalla stock and cash. This has enabled 3rd party vendors the opportunity to monetize their royalty interests in the most tax-efficient manner while maintaining meaningful exposure to the upside of their assets and also benefiting from the appreciation of Metalla's share price. This model has been validated through multiple transactions.